Pora, Svoboda Vybory Stormed by Gov't Forces
The Ukrainian pro-democracy organizations Pora, Svoboda Vybory, Znayu are under seige by Ukrainian Ministry of the Interior Troops, Berkut. The provocations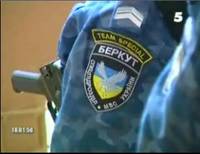 against Pora have been intensifying in the last several weeks. Viktor Yuschenko stated today that the militia is planning a terrorist act and then blaming it on student groups, Pora or other similar organizations. He continued that they (Nasha Ukraina) have information that Interior Ministry troops are being ordered to and quartered in and around Kyiv under the pretext of the military parade which is to occur on October 28.
Below is the full statement issued by Pora:
THE POLICE IS ATTACKING PORA AGAIN!!!!!
The searches by SBU (SECURITY SERVICE) staff are being conducted now, at 10:35 October 22, 2004 in the office of the Secretariat of the Freedom of Choice Coalition of Ukrainian NGOs in Kyiv that implements a range of monitoring and educational projects towards ensuring democratic electoral process in Ukraine. SBU claims they have a sanction for the search of campaign PORA office under the signature of major Yuri Primak. But the search of Freedom of Choice office is totally illegal. MP Yurii Pavlenko and a couple of journalists are right now dealing with the police.
The MPs and mass media are not allowed to enter the building. No infornation is provided. The police is conducting searches in the apartment of Vlad Kaskiv Coordinator of Freedom of Choice Coalition. The MPs and OSCE representatives are there. Also searches are being carried out in the private apartments ofYury Poliuchovich amd Mykhailo Svystovich, activists the civic campaign PORA, which has been vigorously cracked down by law-enforcement bodies. The reaction political forces in Ukraine have launched the large-scale attack over democracy and human rights.
Please help us! We need your support!
WE ASK TO INFORM FOREIGN MASS MEDIA and INTRENATIONAL ORGANIZATONSABOUT THESE EVENTS!!! HELP TO STOP WAVE of TERROR!!!
We will give you more information.
For the details see
www.pora.org.ua
www.kuchmizm.info
www.maidan.org.ua
www.hotline.org.ua
call us at +38050 560 56 87 +38067 446 53 30